Dr. Stephanie Ann Plamondon, MD, FRCPC, CSCN (EMG)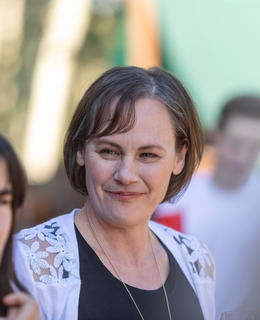 Clinical Associate Professor
Clinical Neurosciences
Full Member
Hotchkiss Brain Institute
Full Member
Mathison Centre for Mental Health Research and Education
---
Background
Credentials
Certificate In Patient Safety and Quality Management, W21C, University of Calgary, 2017
Royal College Simulation Education Course (Set), ATSSL/Royal College of Physicians and Surgeons, 2018
CSCN (EMG), Canadian Society of Clinical Neurophysiologists, 2003
Educational Background
MD Medicine, McMaster, 1996
FRCPC Physical Medicine and Rehabilitation, McMaster, 2000
Research
Areas of Research
neuromuscular disease
neurorehab
QI
medical education
Music therapy in healthcare
Activities
In terms of scientific contributions I have presented /authored 7 posters in the last 3 years in the areas of simulation in rehab, QI, neuromuscular disease, telepresence robots and music in neurorehabilitaiton and led 2 workshops at our Annual Scientific CAPMR meeting in the Yukon on Simulation in Rehab and Roundtable Reflection on Cases.  I am currently a co-PI for a mixed methods study, currently in write up phase for submission on the Effects of Music therapy on pain, mood, patient and caregiver satisfaction in the inpatient neurological populations as well as a scoping review on music therapy and music interventions in SCI . I am a collaborator on a feasibility and acceptability study of music intervention and therapy in the ICU with Dr. Chris Grant and Neurosurgery trainee Dr. Rena Far.  I am a collaborator on several published studies in Spinal Muscular Atrophy research and an ongoing study in neuromuscular disease and respiratory muscle training study with Dr. Gerald Pfeffer.
Participation in university strategic initiatives
Projects
Medical lead for Music Therapy program at FMC and SHC
Administrative medical lead for integration of music therapy services into inpatient care on 13 units including ICU, palliative care, acute neuro, neurorehab, mental health and burns units with donation funded supports since 2017
---
Telepresence Robots as Patient support Tools to Reduce Isolation
I have worked with AHS IT, Virtual Health, Music therapy and Peer support groups to test the usability of telepresence robots as patient support tools during isolation.  As a result of this work, I applied for the i4 AHS Innovation Conference Launchpad competition 2021 and was named a semi-finalist (top 12 proposals) in the Mental Health and Wellness category.  I competed virtually in the Launchpad on November 4th, 2021 during the conference, delivering a 3 minute pitch.
Awards
Individual Citation Award,

Canadian Association of Music therapists.

2021

Best QI poster, Best poster overall,

Canadian Association of Physical Medicine and Rehabilitation.

2019

Excellence in Healthcare Delivery Award - Provincial recipient,

Muscular dystrophy Canada.

2018

John Latter Residency Teaching award,

University of Calgary PMR program.

2015