REALISE Community Mentorship
The REALISE Community Mentorship Program provides a valuable opportunity for trainees to learn from Calgary's most engaged and dynamic leaders. We partner eligible graduate students and postdoctoral scholars with professionals who can provide insights into the business world and broader community, helping our young leaders achieve their potential as they transition into their future careers. 
Fostering meaningful mentoring relationships
The REALISE Community Mentorship Program provides the support and guidance needed for our students and scholars to go on to become Calgary's next generation of  leaders. REALISE mentoring partnerships foster new interactions for mutually beneficial personal and professional growth.
Community Mentorship Options
REALISE Mentees are enthusiastic high achievers, poised to raise the bar in any vocation. Mentoring partnerships provide them with the opportunity to engage with the local community and further hone their networking and professional skills.
Mentoring is a well-established tool to help individuals grow both professionally and personally. A mentoring relationship provides an invaluable opportunity to accelerate your development through interaction with an accomplished, successful professional. Mentors can inspire, suggest ways to improve your knowledge and skills, introduce you to new opportunities and community endeavours, give impartial advice and share career experiences.
Know someone who would make a great REALISE Mentor?
Through their own personal networks, some REALISE trainees may have identified a specific individual with whom they would like to establish a mentoring relationship but don't know how to proceed. In these instances, the REALISE Community Mentorship Program may be able to assist by providing a structured platform from which to move forward. If you are aware of a prospective mentor who you would like to interact with through REALISE, please contact us at realise@ucalgary.ca

Please note: The REALISE Community Mentorship Program announces a call for new applicants each fall via the REALISE program's mailing list. Only those trainees who are formally registered in REALISE and are active members of our mailing list will receive an invitation to apply for the mentorship program.
If you are a current HBI trainee who is not registered in REALISE, please visit our REGISTRATION page for information about eligibly requirements and how to apply.
Why become a REALISE Mentor?
Mentoring is a well-established tool to help individuals grow both professionally and personally. Mentors affect the lives of mentees by fostering new understandings, providing insights and coaching, sharing experiences and building networks. For REALISE students and scholars, the impact of mentors from outside of the academy is significant and tangible.
While the primary role of a mentor is to challenge and inspire their mentee, benefits for mentors extend beyond simple philanthropy. As a mentor you may: enhance your management and leadership skills, expand your professional network, help to develop and retain talent in our city, create a legacy of leadership and learn more about the important medical research being conducted at the University of Calgary.

Who are REALISE Mentors?
The REALISE Community Mentorship Program is fortunate to include a variety of accomplished professionals as mentors. REALISE Mentors represent a range of fields, from the corporate world through to government and not-for-profit agencies. This diversity allows our mentees to interact with a wide cross-section of the local community, experiencing a variety of opportunities and learning about the many different paths to success.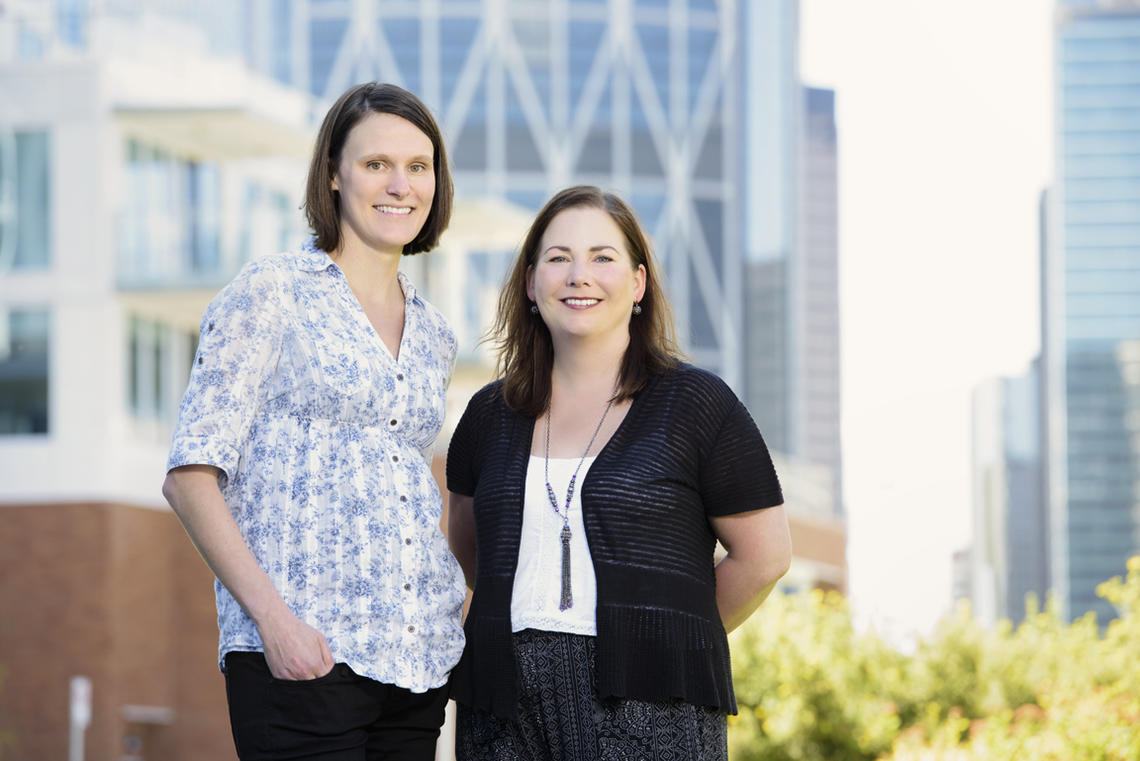 "REALISE and, in particular, this mentorship program, is easily the most valuable professional development initiative I've ever participated in. Post-doctoral career development tends to be exclusively focused on landing a job at a large, research-intensive institution. The mentorship program gave me confidence in my ability to put my skills to use at a small, undergraduate-focused university. I've recently accepted a fantastic job - one that I might never have even applied for without the mentorship program."
REALISE Mentee Erin Mazerolle, PhD
"I thought I might be giving more than I got, but I definitely found the relationship to be a two-way street. I really enjoyed getting to know Erin on a personal level, having conversations with her and seeing her consider some of the same questions I was considering a number of years ago. Being able to act as a sounding board for her has just been fantastic."
Community Mentor Nicole Sherren, PhD