The Hotchkiss Brain Institute (HBI) is an internationally recognized centre of excellence in brain and mental health research and education, based at the University of Calgary's Cumming School of Medicine and working in partnership with Alberta Health Services. The HBI is composed of over 1440 people, including 300 plus members spanning 16 academic departments and nine faculties at the University of Calgary, all working towards a shared vision. The HBI operates under the guidance of its strategic and academic committees.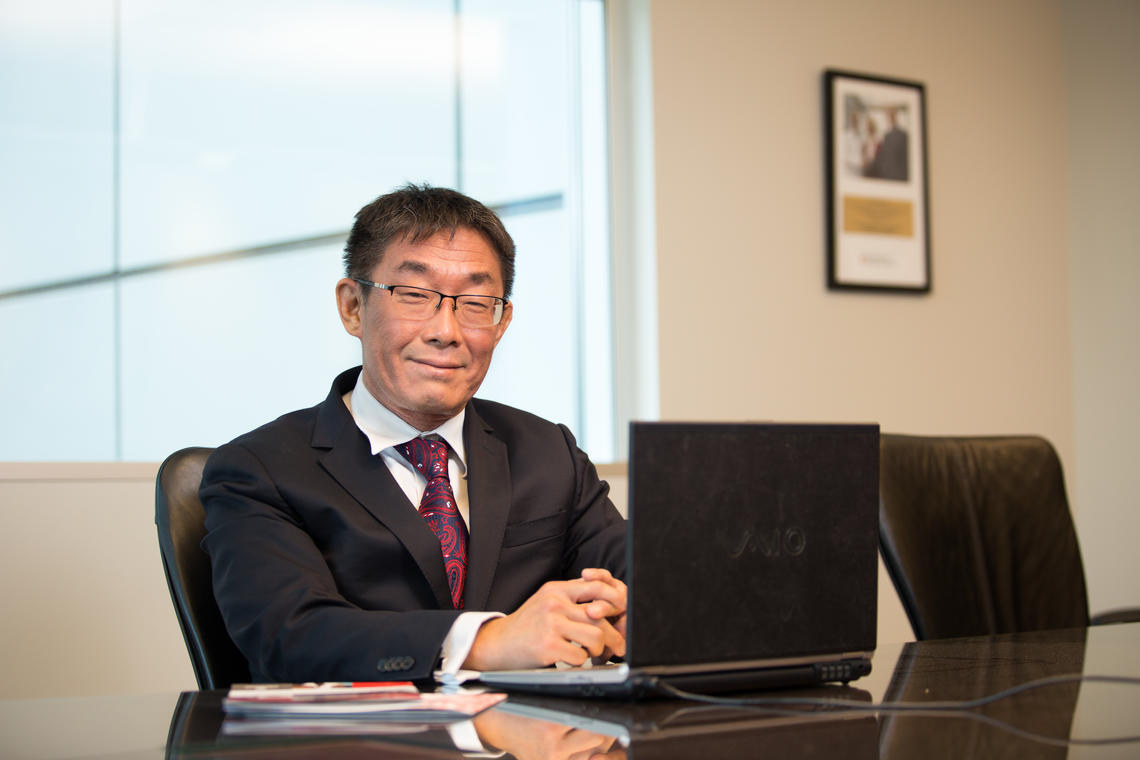 David Park, PhD
HBI Director David Park, PhD, is a Professor in the Cumming School of Medicine's Departments of Clinical Neurosciences and Cell Biology & Anatomy at the University of Calgary. He is also the university's Brain and Mental Health Research Strategy Lead. 
Dr. Park is an internationally recognized expert in molecular biology. He completed his PhD in biochemistry at Rutgers University followed by post-doctoral training in neurobiology at Columbia University. His focus is on understanding the cellular mechanisms involved in Parkinson's disease and stroke-related neurodegeneration.
Dr. Park's Parkinson's disease research efforts focus on the genetic causes of the disease, specifically on the genes linked to familial Parkinson's disease. With regards to his stroke work, Dr. Park aims to understand and target cellular mechanisms to improve recovery and survival after stroke. His work has been published in high impact journals such as Nature Cell Biology; Science; Neuron; Proceedings of the National Academy of Sciences; Nature Communications; the Journal of Cell Biology; and the Journal of Neuroscience and Human Molecular Genetics.
Dr. Park is the recipient of numerous prestigious awards. He's a Heart and Stroke Career Investigator and has also been named a fellow of the Royal Society of Canada (2012). He currently serves and/or has served on various external grant review committees including the Canadian Institutes of Health Research, the Natural Sciences and Engineering Research Council, Parkinson Canada, and the Heart and Stroke Foundation. He has sat on sits on editorial boards such as the Journal of Biological Chemistry and the Journal of Neurochemistry, and was a member of the EU Joint Programme – Neurodegenerative Disease Research. Dr. Park is currently serving as a Board Member on the Board for the Brain Canada Foundation and the Djavad Mowafaghian Centre for Brain Health (UBC) – Strategic Advisory Board.
As the director of the HBI, Dr. Park leads the Institute and ensures that its research and education programs operate at a level of excellence that is internationally recognized. He also plays a key role in securing and managing the financial resources required for the Institute to realize its vision and mission.