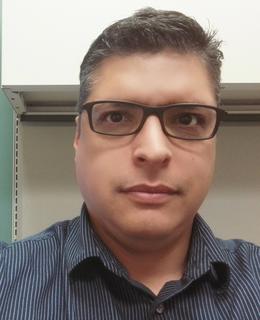 Associate Professor
Radiology and Clinical Neurosciences
Full Member
Hotchkiss Brain Institute
---
Background
Educational Background
Bach of Eng Sci , Tec de Monterrey (Mexico), 1995
Doctor of Philosophy , Institut National des Sciences Appliquées de Lyon , 2005
M.S. , Institut National des Sciences Appliquées de Lyon , 2001
Biography
Samuel Pichardo obtained his Ph.D. in Imaging and Systems in 2005 from the INSA-Lyon, France, while conducting his research at the INSERM LabTau laboratory. From 2006 to 2008, he worked as a Postdoctoral fellow at Sunnybrook Research Institute and from 2008 to 2017, Samuel worked as scientist in the Thunder Bay Regional Health Research Institute and was an adjunct professor at Lakehead University. He joins the University of Calgary as assistant professor in the Departments of Radiology and Clinical Neurosciences, Cumming School of Medicine, and as a member of the Hotchkiss Brain Institute.
Samuel's research has covered different aspects of therapy based on focused ultrasound (FUs). A central topic of his research has been to gain a better understanding of the physics of ultrasound transmission through the human skull to develop better minimally invasive therapies for brain indications. He has also worked in the design, modification, and testing of medical FUs devices for several indications such as prostate cancer, atrial fibrillation, head and neck tumors and rectal cancer. He comes with significant pre-clinical and translational experience in the use of Magnetic Resonance Imaging (MRI) for targeting and monitoring of therapy based on FUs. His area of research at the University of Calgary will center in the exploration of FUs as a non-invasive diagnostic and therapeutic tool for neuromodulation applications.
Research
Areas of Research
Focused Ultrasound as non-invasive treatment for brain disorders
Dementia & Cognitive Disorders
Epilepsy
Mental Health
Activities
My area of research concentrates in the exploration of Focused Ultrasound (FUs) as a non-invasive method for the characterization of neurological functions and the treatment of brain disorders. Because of its low-invasiveness, the use of FUs for neurological applications has been a major research topic for the last 70 years. However, it has been the last five to ten years that have witnessed a remarkable increase of clinically approved treatments and clinical trials for very diversified indications. FUs uses the physical principle that mechanical energy can be concentrated in a focal volume of small dimensions (from few cubic mm to 1 cubic cm) in a non-invasive way. Different bio-effects of FUs can be produced depending on the chosen FUs parameters such as pressure, frequency, duty-cycle and exposure duration. It has been demonstrated that FUs is able to transiently induce neurostimulation effects in the brain. However, the exact mechanism remains to be fully understood. 
The potential applications of noninvasive neurostimulation with FUs are quite significant in the areas of psychology, psychiatry, functional imaging and more. From a better understanding of brain processes and cognitive mechanisms to the development of therapies for OCD, depression, addictions and more, the stakes of a non-invasive, high-resolution and controlled method to induce neurostimulation are quite significant. However, a considerable amount of work remains to be done since an optimization of the FUs parameters is required to achieve an efficient and safe use of this neurostimulation effect. 
My research activities include numerical studies for sound propagation through the skull, characterization of transcranial ultrasound propagation, development of Magnetic Resonance-guided techniques for the targeting and monitoring of FUs, and clinical translation of FUs applications. 
Courses
| Course number | Course title | Semester |
| --- | --- | --- |
| MDSC 68901 LEC 01 01 | Medical Imaging Techniques | Fall 2019, Fall 2020, Fall 2021 |