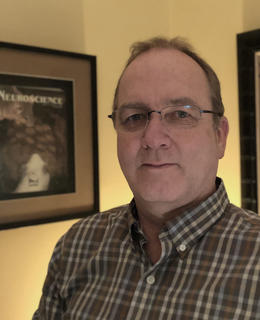 Dr. Richard Dyck
Positions
Adjunct Professor
Cumming School of Medicine, Department of Cell Biology and Anatomy
Full Member
Hotchkiss Brain Institute
Full Member
Mathison Centre for Mental Health Research and Education
Child Health & Wellness Researcher
Alberta Children's Hospital Research Institute, Owerko Centre
Background
Educational Background
Ph.D. Neuroscience, University of British Columbia, 1993
M.Sc. Neuroscience, University of British Columbia, 1988
B.Sc. Biological Sciences, University of Lethbridge, 1981
Biography
Affiliated with Epilepsy, Mathison Centre for Mental Health, Neurodevelopment and Spinal Cord Nerve Injury and Pain (SCNIP) HBI priority areas
Research
Areas of Research
Zinc neurobiology
Experience-dependent plasticity
Adult Neurogenesis
Brain Development
Brain Injury
Activities
Main areas of research:
The role of synaptic zinc in the brain
Cerebral Cortical Development and Plasticity: Studies are designed to elucidate the processes involved in the development of the mammalian cerebral cortex. The organization of the cerebral cortex is not fixed but is plastic, meaning that it is continuously modified by experience (e.g. sensory inputs, learning, drugs/hormones, injury, etc.) throughout our lifetime. The synaptic connectivity of the cortex is particularly malleable during early periods of postnatal development. Research activities, funded by Natural Sciences and Engineering Research Council of Canada, are directed toward identifying the molecules and mechanisms that are responsible for mediating experience-dependent plasticity in the cerebral cortex. We use cellular, molecular and behavioural approaches in animal models in order to understand these phenomena. 
Recovery after Brain Injury: We are currently engaged in research that is directed toward understanding the mechanisms of neuronal injury, and recovery of function after brain injury. This research program, funded by the Canadian Institutes of Health Research assesses anatomical and behavioural indices of functional recovery following traumatic brain injury or stroke induced in the neonate. In particular, we are interested in identifying molecules that attenuate cell death and potentiate neuronal survival and regeneration.
Participation in university strategic initiatives
Courses
| Course number | Course title | Semester |
| --- | --- | --- |
| PSYC 72009 SEC 01 S01 | SeminarinBrain&CognitiveScienc | Fall and Winter 2020 |
| NEUR 531 LEC 01 01 | (PSYC 531) Nervous System Development | Winter 2022 |
| PSYC 531 LEC 01 01 | Nervous System Development | Winter 2022 |
| PSYC 750 | Psychopharmacology | Fall 2021 |
Awards
Neuroscience Education Award,

HBI.

2016

Golden Apple Award,

Faculty of Medicine Graduate Student's Association.

2004