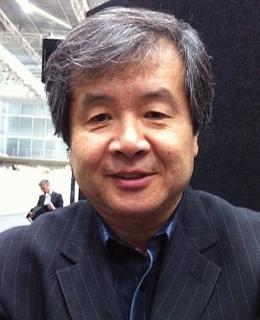 Dr. Bin Hu
Positions
Professor - Medicine
Cumming School of Medicine, Department of Clinical Neurosciences
Full Member
Hotchkiss Brain Institute
Child Health & Wellness Researcher
Alberta Children's Hospital Research Institute
Contact information
Office:
403-210-8640
Email:
hub@ucalgary.ca
Background
Educational Background
Doctor of Medicine Medicine, Shanghai Nat. Def. Med College, 1983
Doctor of Philosophy Neurobiology, Laval University, 1989
Biography
Dr. Bin Hu MD. Ph.D.
Professor Hu was the founding member and head of Division of Translational Neuroscience. His research has extended from the fundamental science such as thalamocortical auditory cueing network, axonal mechanism of deep brain stimulation and dormant neuron model of autism, to technology innovations and social engineering. He has led three large-scale, public funded and million-dollar translational international programs that developed 2nd Generation wearable system and digital health platforms for the diagnosis, treatment and telehealth of Parkinson's disease and other neurological disorder (known as Ambulosono-ACSCON project). Current research interests include: 1) Technological and social platforms for facilitating evidence-based trials of non-pharmaceutical interventions, 2) Re-thinking the role of multi-domain exercise and cognitive training in modifying motor and cognitive decline in neurodegenerative diseases and 3) Neurobiological circuits and system underlying music-induced paradoxical movement in PD.
The long-term objective of my research program is to develop, validate and implement new and practical technological tools, supported by neurobiology and causality-based scientific concepts and approaches that will transform the current landscape of non-pharmaceutical treatment and management of chronic illness in an aging society. More specifically, I am interested in the applications of 2nd generation wearable systems, causality analysis, and applications of instrumental learning and social engagement behavioural models in the design of new diagnostics and interventions.
Research
Areas of Research
Brain Development
Brain Stimulation
Activities
Parkinson's disease, audition, thalamic stimulation in the cortex.
Participation in university strategic initiatives
Awards
commendation,

2017

award,

2014

award (honourable mention),

2014

International Advisor for Chinese Association of Disabled People,

2014

International Advisor in rehabilitation medicine in China,

2014

Suter Professorship for parkinson's Disease Research,

2014

visiting professor, Hongkong City University,

2014

award,

2013

Invited as external examiner for Ph.D. thesis by a major overseas university,

2013

salary support award,

2013

award,

2011

Morton Shulman Award,

Parkinson Society Canada.

2011

A Community-based Mobility Assessment Program (MAP) for Elderly with Cognitive and Gait Impairment,

2009

Alan McGregor Memorial Endowment,

2009

Audition and Autism,

2009

Audition and Autism A proposal for creating a CIHR team to enhance research and partnerships combating developmental communication disorders,

2009

Division of Neurology Research Fund,

2009

Suter Professorship in Parkinsons Disease Research,

2006

International Advisor,

2004

International expert reviewer,

2004

Senior Consultant and Advisor,

2004

2002-2004 Senior Consultant and Advisor,

Department of Rehabilitation Hongkong Polytechnic University Hongkong, China.

2002

Murray Barr Award Lecture,

1998

Murray Barr Junior Scientist Award,

1997

Board Member,

1996

Honored Professorship,

Shanghai Second National Defense Medical College Shanghai, China.

1995

MRC Scholarship,

Medical Research Council of Canada University of Ottawa and Ottawa Civic Hospital Ottawa, Ontario, Canada.

1992

FRSQ Postdoctoral Fellowship,

1990

MRC Postdoctoral Fellowship,

1990

FCAR Postdoctoral Fellowship,

1989

Graduate Studentship,

1986

Basic Research Award for Outstanding Medical Student,

Shanghai Second National Defense Medical College China.

1981
Selected publications:
Mooney DM, Zhang L, Basile C, Senatorov VV, Ngsee J, Omar A, Hu B*. Distinct forms of cholinergic modulation in parallel thalamic sensory pathways. Proceedings of National Academy of Science USA. 2004 Jan 6; 101(1):320-4.
Chomiak T and Hu B*. Axonal and Somatic Filtering of Antidromically Evoked Cortical Excitation by Simulated Deep Brain Stimulation. Journal of Physiology, 2007 579(Pt 2):403-12.
Chomiak T and Hu B*. The Functional Architecture and Spike Timing Properties of Corticofugal Projections from Rat Ventral Temporal Cortex. Journal of Neurophysiology, J Neurophysiol 100: 327-335, 2008
Chomiak T and Hu B. What is the optimal value of the g-ratio for myelinated fibers in the rat CNS? PloSONE, 2009 4(11): e7754.
Chomiak T, Hu B**, Alterations of Neocortical Development and Maturation in Autism: Insight from valproic acid exposure and animal models of autism. Neurotoxicology and Teratology Volume: 36 Special Issue: SI Pages: 57-66 Published: MAR-APR 2013
Chomiak T, Watts A, Burt J, Camicioli R, Tan SN, McKeown MJ, Hu B**. Differentiating cognitive or motor dimensions associated with the perception of fall-related self-efficacy in Parkinson's disease. Nature Publication Journal Parkinsons Dis. 2018 Aug 20;4:26. doi: 10.1038/s41531-018-0059-z.
Hu B**, Chomiak T. Wearable technological platform for multidomain diagnostic and exercise interventions in Parkinson's disease. Int Rev Neurobiol. 2019;147:75-93. doi: 10.1016/bs.irn.2019.08.004. Epub 2019 Sep 16.