HBI Alumni of the Year Award - Past Recipients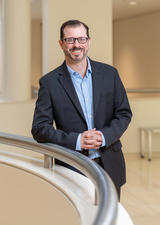 2021 Alumnus of the Year: Stephen Kemp
Stephen Kemp, Ph.D., completed his Ph.D. at the University of Calgary, under the mentorship of Dr. Rajiv Midha. His research focused on the anatomical, sensorimotor, and functional evaluation of peripheral nerve regeneration through bio-engineered conduits in rats.
Following his tenure in Calgary, Dr. Kemp accepted a postdoctoral fellowship at the University of Toronto and the Hospital for Sick Children with Drs. Gregory Borschel and Tessa Gordon. Here, he continued to investigate treatment of nerve injuries, and expanded his research to focus on treatment of neonatal nerve injuries. He then completed a second postdoctoral fellowship at the University of Toronto working under Drs. Michael Salter and Beverley Orser. Dr. Kemp is currently the Director of the Neuromuscular Lab at the University of Michigan, and an Associate Editor at Muscle & Nerve. Dr. Kemp has published 48 peer-reviewed journal articles that have a cumulative citation count of 1843, and a current h-index of 26, as well as 15 externally funded grants totaling over $10 million dollars in funding. 
Dr. Kemp is visiting the HBI in May, 2022 and will be delivering a seminar to members and trainees.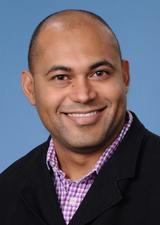 2020 Alumnus of the Year: Roy Sillitoe
Dr. Roy Sillitoe completed his PhD in cerebellar development with Dr. Richard Hawkes at the HBI. He undertook two highly successful postdoctoral positions with Dr. Derek J. Blake at the University of Oxford and Dr. Alexandra Joyner at the Skirball Institute of Biomolecular Medicine in New York. Roy started a lab at the Albert Einstein College of Medicine before moving to Baylor College of Medicine in Texas in 2012 where he is an associate professor in the Departments of Pathology and Immunology and Neuroscience. Roy has carried on his interest in cerebellar development and function and runs a well-funded NIH program, with 57 peer-reviewed career publications in excellent journals.
Dr. Sillitoe visited the HBI in March, 2020 and delivered his seminar titled: Genetic dissection of cerebellar function by generating mice with disease-like phenotypes.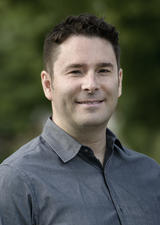 2019 Alumnus of the Year: Trevor Day
Dr. Trevor Day did his PhD with Dr. Richard Wilson at the HBI studying the neural control of respiration. Trevor is now a full professor at Mount Royal University in Calgary. He runs a highly dynamic human research program and is committed to physiology education through his teaching, laboratory, and field-based NSERC-funded research in integrative cardiorespiratory and cerebrovascular human physiology. Trevor is a leader in organizing high altitude research expeditions. In 2020, Dr. Day was appointed to the Royal Society of Canada as a Member of the College of New Scholars, Artists and Scientists.
Dr. Day visited the HBI in February, 2020 and delivered his seminar titled: Cerebral blood flow regulation during incremental ascent to high altitude: Effect of superimposed hypoxia and hypocapnia.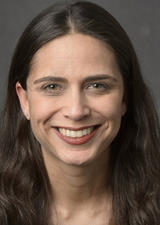 2018 Alumna of the Year: Dr. Susan Sangha
Dr. Susan Sangha is an Assistant Professor of Neuroscience in the Department of Psychological Sciences at Purdue University and the Purdue Institute for  Integrative Neuroscience.
Dr. Sangha completed her PhD in neuroscience from the University of Calgary in 2005 with funding from the Natural Sciences and Engineering Research Council of Canada and the Canadian Institutes of Health Research. She was a recipient of postdoctoral fellowship awards from the Natural Sciences and Engineering Research Council of Canada, the Alexander von Humboldt Foundation, and the Human Frontiers Science Program. Her research combines behavioral, pharmacological, and electrophysiological methods to investigate the neurobiological mechanisms underlying memory formation in animal models, with an emphasis on neural circuits of emotion. The Sangha Lab has developed a novel behavioral paradigm explicitly designed to assess reward, fear and safety cue learning together in order to investigate the multiple circuitries that regulate learning processes.
Dr. Sangha is the author of more than 30 peer-reviewed articles and commentaries, editor of the book Neurobiology of Abnormal Emotion and Motivated Behaviors: Integrating Animal and Human Research, and an elected member of the Executive Committee of the Pavlovian Society dedicated to the scientific study of behavior and learning. Her research is being funded by the National Institute of Mental Health.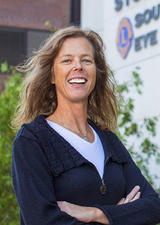 2017 Alumna of the Year: Dr. Bärbel Rohrer
Dr. Bärbel Rohrer is Professor of Ophthalmology and Neuroscience and SmartState Endowed Chair in Gene and  Pharmaceutical Treatment of Retinal Degenerative Diseases at the Medical University of South Carolina (MUSC).
Dr. Rohrer is a graduate of the University of Tübingen, Tübingen, Germany, with a diploma in Biology/Cybernetics. Dr.  Rohrer received her doctorate degree from the University of Calgary in Visual Neuroscience, where, in William K.  Stell's laboratory, she was the first to examine the role of neurotransmitters and local growth factors within the eye in  the control of myopia. She then completed postdoctoral studies in Neuroscience at the University of California at San  Francisco with Louis F. Reichardt, establishing the groundwork for her studies on neuroprotective agents in retina  development and disease. She has been at MUSC since joining the faculty in 2000, with dual appointments in  Ophthalmology and Neurosciences.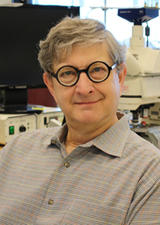 2016 Alumnus of the Year: Dr. William F. Colmers
Dr. William F. Colmers is a Professor of Pharmacology and Neuroscience and AIHS Medical Scientist in the Faculty of Medicine and Dentistry at the University of Alberta. Dr. Colmers delivered a seminar at the HBI in January of 2017  entitled "Y-bother? New Adventures in NPY" and is the 2016 HBI Alumnus of the Year.
Dr. Colmers obtained his BA and MA at John Hopkins University followed by his Doctorate in 1980 at the University of Regensburg, (Germany) in Zoology and Neuroanatomy. He carried out postdoctoral studies at Duke, the University of Texas - San Antonio, the University of Calgary, where he was co-supervised by Drs. Lukowiak and Pittman (1983-87) and at the Vollum Institute in Portland Oregon. Since starting his own laboratory at the U of A, he has been continuously funded by AHFMR/AIHS and has focused upon studying the actions of Neuropeptide Y in the central nervous system. He has made fundamental discoveries of its involvement in epilepsy, obesity, cachexia and anxiety. His laboratory has received funding from the CIHR, NIH and AIHS among other agencies and he has trained a number of students and fellows who now occupy faculty or industry positions in Canada and elsewhere.
Dr. Colmers is a board member of the Canadian Association of Neuroscience and has been a a member of grant review panels for CIHR, AHFMR/AIHS and Campus Alberta Neuroscience. Recently he was appointed as a member of the Excellence Commission of the German Research Foundation/German Council of Science and Humanities.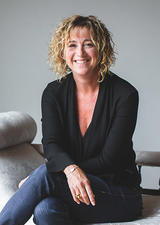 2015 Alumna of the Year: Dr. Pamela Valentine
Dr. Pamela Valentine is the Chief Executive Officer (Interim) of Alberta Innovates: Health Solutions  (AIHS). She is a stellar example of an individual who has been able to utilize the skills she developed during her research training to build an outstanding career outside of the lab.
Dr. Valentine obtained her MSc from the University of Calgary in 1997 under the supervision of Dr. Cam Teskey, followed by her PhD with Dr. Jos Eggermont (97-01), also in Calgary. Following a brief period as a research assistant professor in the Department of Clinical Neurosciences, she took a position with the Alberta Heritage Foundation for Medical Research (AHFMR) in Edmonton. Here, she started her career managing the traineeship competitions, but as new opportunities presented themselves, she moved to positions of increasing responsibility. With the dissolution of AHFMR and the establishment of AIHS, Dr Valentine became Vice-President Research & Innovation for 3 years and subsequently Chief Partnership Officer and Chief Operating Officer for 2 years, before occupying her current position as the corporation's Chief Executive Officer (Interim). Throughout her career with AHFMR and AIHS, Dr. Valentine has been a strong supporter of Alberta's medical research enterprise and has built strong strategic partnerships with industry and both governmental and non-governmental stakeholders in Alberta and Canada.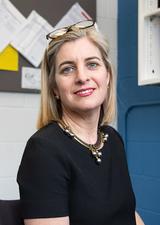 2014 Alumna of the Year: Melanie Woodin
Dr. Melanie Woodin is a professor in the Department of Cell and Systems Biology at the University of Toronto. As the 2014 Alumna of the Year she visited the HBI in October and delivered a seminar entitled: "KCC2 blurs the lines between excitatory and inhibitory synapses".
Dr. Woodin obtained her PhD from the University of Calgary in 2001 under the direction of Dr. Naweed Syed. Following postdoctoral study at Berkeley with Dr MM Poo, she joined the University of Toronto in 2004 where she is currently Associate Chair of Undergraduate Studies. Dr. Woodin has been very active as a member of both CIHR and NSERC grant panels, as well as an executive member/ and or councillor of the Canadian Physiological Society and the Canadian Association for Neuroscience. She was also the president of the Southern Ontario Neuroscience Association. She is a Reviewing Editor of Frontiers in Cellular neuroscience and Frontiers in Synaptic Neuroscience.
The Woodin lab is focused on discovering the cellular mechanisms underlying inhibitory GABAergic synaptic plasticity in the hippocampus. The centre of these investigations is the K+-Cl cotransporter KCC2, which is essential for maintaining the Cl- gradient necessary for GABAergic transmission. The regulation of this transporter is important not only in such neurological disorders as epilepsy , brain trauma and stroke, but recent evidence suggests that it has important roles in the maintenance and regulation of dendritic spines and receptor localisation.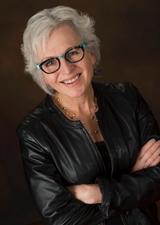 2013 Alumna of the Year: Melanie Kelly
Dr. Melanie Kelly, Professor, Department of Pharmacology at Dalhousie University was named the 2013 Alumna of the Year. Dr. Kelly visited the HBI in January, 2014 and delivered her seminar titled: The ocular endocannabinoid system: Therapeutic prospects for cannabinoid drugs.
Dr. Kelly is one of five vision researchers housed in a collaborative multidisciplinary laboratory, The laboratory for Retina and Optic Nerve Research, within the Faculty of Medicine at Dalhousie University. Researchers in this joint research laboratory are involved in all aspects of vision research and have a mandate to understand normal retinal signal processing as well as retinal pathophysiology.
Dr. Kelly was a postdoctoral fellow with Drs. Ken Lukowiak and Mark Bisby.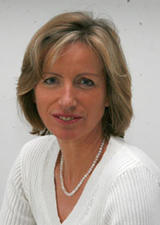 2012 Alumna of the Year: Inga Neumann
Dr. Inga Neumann, Professor and Chair of the Department of Behavioral Neuroendocrinology at the University of Regensburg in Germany, was named the 2012 HBI Alumna of the Year. Dr. Neumann visited the HBI May 31 - June 1, 2012 and spoke at the HBI seminar on June 1.
Dr. Neumann obtained her PhD from University of Leipzig in East Germany. She carried out postdoctoral studies in Dr. Quentin Pittman's laboratory from 1992-94 as the first ever Human Science Frontiers Fellow from the former East Bloc (she also was supported by AHFMR). Following several years as a Senior Scientist at the Max Planck Institute for Psychiatry in Munich, she became Professor and Chair of the Department of Behavioral Neuroendocrinology at the University of Regensburg in Germany. She is on the editorial boards of several scientific journals and has organized a number of important scientific meetings and symposia.
As a graduate student and postdoctoral fellow, Dr. Neumann carried out pioneering research that investigated the dendritic release of the neuropeptides oxytocin and vasopressin from the hypothalamic magnocellular nuclei. Her career since that time has built on these earlier studies, wherein she has published extensively on the stimuli involved in activating the release of these peptides and the consequence of their release on the behaviour of the animal. In particular, her recent work has demonstrated the involvement of the neurohypophysial peptides in aggression, maternal behavior, affiliative behaviour and in responses to stressful stimuli. The work has immense significance for our understanding of how the brain reacts to, and compensates for perturbation brought about by stress and lays the ground work for the development of pharmaceuticals targeted at neuropeptides.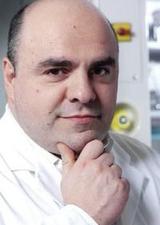 2011 Alumnus of the Year: Angelo Vescovi
Dr. Angelo Vescovi, PhD, from the University of Milano-Bicocca, Department of Biotechnology and Biosciences was named the 2011 HBI Alumnus of the Year.
Dr. Vescovi visited the HBI on Thursday, October 13 and Friday, October 14 and spoke at the HBI seminar on October 14. His topic for the seminar was "Neural Stem Cells: Calgary-Milan-Calgary, Twenty years later, from Benchside to Clinical Trials".
Dr. Vescovi currently serves as Co-Director of Research for the Institute for Stem Cell Research in Milan, Italy.  He received his PhD in Biological Sciences from the University of Milan in 1987.  Dr. Vescovi spent 2 years as a post-doctoral fellow with Dr. Sam Weiss at the department of Pathology of the University of Calgary, working at the isolation of neural stem cells.  From 1993 through 1999 he was the supervisor of two strategic projects on "Neural Stem Cell Transplantation for Neurodegenerative Disorders" funded by the Italian Ministry of Health while also acting as Vice-Director of research at Neurospheres Ltd. Calgary, Canada from 1995 through 1998.  From 1995 through 2001 he has been an adjunct professor at the course of Physiology at the University of Milan.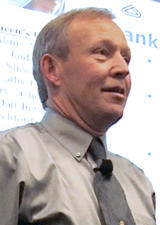 2010 Alumnus of the Year: Alastair Ferguson
Dr. Alastair Ferguson, Professor in the Department of Physiology at Queen's University is the recipient of the inaugural Hotchkiss Brain Institute Neuroscience Alumni of the Year Award.
Following his BSc in Birmingham, England, Dr. Ferguson came to Calgary in 1977 to complete his PhD in Neurosciences. He then completed a fellowship in the Department of Neurology and Neurosurgery at the Montreal General Hospital and McGill University, and eventually moved on to Queen's University in 1984, where he has held administrative appointments as Associate Dean-Life Sciences, Head of the Department of Physiology and Interim Directory of the Cardiac, Circulatory and Respiratory (CCR) Research Program.