Research and Implementation Strategy
The Computational Neuroscience Platform is led by Dr. Jörn Davidsen, Department of Physics and Astronomy in the Faculty of Science, and Dr. Signe Bray, Scientific Director of the Child and Adolescent Imaging Research Program, Department of Radiology in the Cumming School of Medicine. Drs. Davidsen and Bray, together with Dr. Richard Frayne (Deputy Director of the Hotchkiss Brain Institute), have engaged and mobilized over 60 scholars and leaders from at least 17 faculties, institutes, and centres across campus to develop a Computational Neuroscience research strategy. The strategy has identified three research themes – areas of strength in which we have the potential to become national leaders:  
A comprehensive research strategy and implementation plan including new hires has been developed that leverages existing partnerships and the considerable recent investments made into infrastructure and research excellence by the University of Calgary, Cumming School of Medicine, Hotchkiss Brain Institute and other partners. External partners include Campus Alberta Neuroscience, the Pacific Institute for Mathematical Sciences and AccelNet's International network for brain-inspired computation (with nodes in Pacific Northwest incl. U Washington & Allen Institute, and Montreal, Paris)
For a full list of faculty supervisors for the Computational Neuroscience Interdisciplinary Specialization Program, please click here
Dr. Jackson Cone, PhD
Dr. Cone obtained his PhD at the University of Chicago and is an Assistant Professor in the Department of Psychology and a full member of the Hotchkiss Brain Institute. His research explores  the neurobiological basis of sensory processing, perception and behavior.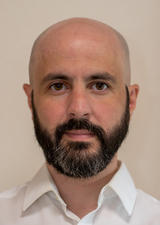 Dr. Javier Orlandi, PhD
Dr. Orlandi obtained his Ph.D. in 2015 at the Physics Faculty in the University of Barcelona and is an Assistant Professor in the Physics and Astronomy department and full member of the Hotchkiss Brain Institute. His research focuses in revealing the underlying principles of distributed coding in the brain and their impact in perception and learning.