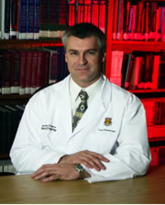 Yves Starreveld
Assistant Professor
Clinical Neurosciences
Full Member
Hotchkiss Brain Institute
M.D. (Doctor of Medicine)
Ph.D. (Doctor of Philosophy)
Research and teaching
Research activities
Image Guided Neurosurgery: I am focused on improving accuracy and broadening its application pre- and intra-operatively. Specific applications to date have been in the targeting and post-implantation analysis of subdural and depth electrodes for epilepsy investigation and treatment. This work is currently being extended to providing guidance for endoscopic pituitary surgery. Novel, vision based registration techniques are being developed along with enhanced intraoperative visual overlay.

Objective Image Analysis: Derived from the electrode localization work, I am quantifying cranial MRI to assess the degree of compression of optic nerves in pituitary tumors, and improve the accuracy of tracking tumor growth over time. Previous work with nonlinear intra-subject image registration is being updated and adapted to these tasks.

Electrophysiological Guidance: Previous work in targeting deep brain electrodes for movement disorder treatment is being applied to the validation and programming of these stimulating electrodes. Nonlinear registration of deep brain physiology overlaid on patient specific MRI-based atlases is being used.