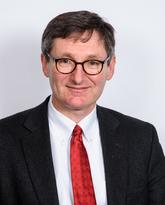 Thomas Raedler
Associate Professor
Psychiatry
Full Member
Hotchkiss Brain Institute
Research and teaching
Research activities
Over the past years, I have engaged in a variety of different research projects, including brain-imaging, electrophysiology, proteomics, endocrine studies, psychopharmacology and clinical psychiatry. While most of my studies were done in schizophrenia, I have also conducted research in other psychiatric disorders including affective disorders, anxiety disorders and dementia. Most recently, the focus of my research interests had been on early and prodromal stages of psychosis.

The focus of my research interests has been on issues that I consider relevant for psychiatric practice. This includes the application of new technologies to relevant clinical issues with the goal of improving the care of psychiatric patients. In collaboration with the division of cardiac sciences, I currently initiated a study using CMR (cardiovascular magnetic resonance) imaging to study functional and structural cardiac abnormalities in early psychosis. In another study with the Seaman MR Research Centre, we are using abdominal MRI to assess lithium-induced nephropathies.

I regularly supervise medical students and residents during thier psychiatric rotations. Over the last year I have served as Pscychiatry Evaluations Coordinator as well as resident research coordinator for the department of psychiatry. In these positions I try to get medical students and psychiatric residents interested in psychiatric research.
Being a clinical psychiatrist has helped me to identify clinical issues that are relevant for patient-care. Given the abundance of different approaches available at the Hotchkiss Brain Institute, I would like to contribute to the clinical aspects of translation research for neuropsychiatric disorders.