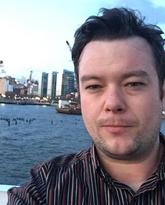 Ryan Peters
Assistant Professor
Faculty of Kinesiology
Full Member
Hotchkiss Brain Institute
Ph.D. (Doctor of Philosophy)
Courses
Since joining the Faculty of Kinesiology in the summer of 2017, I have developed three undergraduate courses all related to neuroscience and motor control. I co-teach KNES 251 (Introduction to Motor Control and Learning – 250 students) with Dr. Tyler Cluff; in my portion of this first-year course, I introduce students to the fundamentals of neurophysiology. I additionally developed a third/forth year course called KNES 365 (Sensorimotor Neuroscience – 150 students) which builds upon the basics introduced in KNES 251 and focuses primarily on the neuromuscular system and how somatosensory, visual, and vestibular systems work together to support human motor control. I am currently designing a fourth year course called KNES 503.79 (Sensorimotor Neurosci II – 30 students) in which students will apply their knowledge of human motor control through a series of in-class labs, computer programming tutorials, oral presentations, and a mock grant proposal.
Research and teaching
Research areas
Human neurophysiology
neurostimulation
computational modelling
medical imaging
robotics
Movement Disorders
Spinal Cord / Nerve Injury & Pain
Research activities
My laboratory studies the neural control of movement by recording directly from sensory receptors and motorneurons in humans. Currently, we are investigating fundamental aspects of muscle spindle receptors, which detect stretching of the muscles, and cutaneous receptors, which detect skin pressures, vibrations, and stretches, as we move around the world. The goal of my research is to understand how this sensory information is utilized by the nervous system to support goal-directed motor behaviour. We are also applying the knowledge derived from this research to develop novel neurophysiological biomarkers that use vibratory and electrical stimulation to track sensorimotor function and neural connectivity along spinal reflex, ascending somatosensory, and descending corticospinal pathways. Critically, these new biomarkers utilize wearable technologies, enabling more accurate and frequent neurophysiological assessments to be performed by users on a daily basis outside of the clinic. I have two invention disclosures filed with Innovate Calgary for these projects and am currently partnering with different companies to make my vision of the "virtual neurological clinic" a reality.