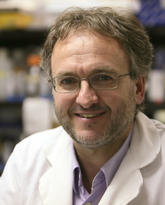 Pere Santamaria
Professor
Microbiology, Immunology & Infectious Diseases
Associate Member
Hotchkiss Brain Institute
Research and teaching
Research activities
Our work focuses on understanding the immunopathogenesis and immunogenetics of autoimmune disease, with a major focus on type 1 diabetes. More recently, we discovered a new therapeutic platform, based on nanotechnology, that can blunt organ-specific autoimmunity without compromising systemic immunity. We are interested in advancing nanomedicines for the treatment of autoimmune diseases, including those targeting the CNS.

The complexity of spontaneous autoimmune responses is a barrier to the design of strategies that can selectively purge the immune system of autoreactivity without impairing systemic immunity. We have discovered that treatment with nanoparticles coated with mono-specific, disease-relevant peptide-major histocompatibility complexes (pMHC) can restore normoglycemia in diabetic animals and resolve limb paralysis in animals affected by experimental autoimmune encephalomyelitis. We have established that pMHC-NP therapy functions by expanding, in an epitope-specific manner, autoantigen-experienced regulatory T-cells that suppress the recruitment of other autoantigenic specificities. This expansion is dramatic, correlates with therapeutic efficacy, including duration of disease reversal, and can be monitored by analysis of peripheral blood, thereby functioning as a biomarker of therapeutic efficacy.
CNS autoimmunity has now become a major focus of our work.