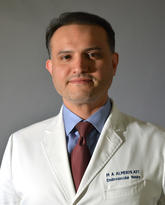 Mohammed Almekhlafi
Assistant Professor
Clinical Neurosciences, Radiology
Community Health Sciences
Full Member
Hotchkiss Brain Institute
M.D. (Doctor of Medicine)
M.Sc. (Master of Science)
FRCPC
Research and teaching
Research areas
Stroke
Endovascular thrombectomy
Brain aneurysms
Carotid stenosis
Cerebral arteriovenous malformation.
Research activities
As an interventional stroke neurologist, my research has focused on improving the outcomes of endovascular therapy of cerebrovascular disorders through optimizing selection and threatments using available and novel imaging and therapeutic techniques. My areas of research interest include endovascular thrombectomy, brain aneurysms, carotid stenosis, and cerebral arteriovenous malformation. I am also interested in studying selective brain hypothermia and its neuroprotective effects.
Biography
Certifications:
License (interventional neurologist) Saudi Commission of Health Specialities 2014
Neurosonology (TCD) certification: The American Society of Neuroimaging 2012
Diplomat of the American Board of Psychiatry and Neurology (ABPN) 2011
License (Neurologist) College of Physicians and Surgeons of Alberta 2011
Fellow of the Royal College of Physicians and Surgeons of Canada (Neurology) 2010
Educational Commission for Foreign Medical Graduates (ECFMG) certificate 2008
Licentiate of the Medical Council of Canada (LMCC) 2007
Affiliations:

O'Brien Institute for Public Health
Awards
Canada's Governor General's Gold Medal, master's level, UCalgary - 2013
McKinney Award; American Society of Neuroimaging - 2013
Faculty of Medicine Distinction Award - 2015
Research Distinction Award, King Abdulaziz University, Saudi Arabia - 2017