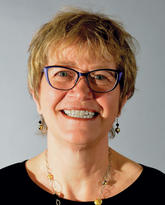 Luanne Metz
Professor and Head of the Division of Neurology
Clinical Neurosciences
Full Member
Hotchkiss Brain Institute
M.D. (Doctor of Medicine)
FRCPC
Research and teaching
Research activities
The most significant research contributions that I have made are:
I have developed a translational research program with Dr. V. Wee Yong to take therapies from the bench to bedside in multiple sclerosis. The first therapy in development is minocycline in which we are now undertaking a phase III RCT trial to prove efficacy. Other therapies are under development including Beta Crystalline (in collaboration with Dr. Shalina Ousman).
I have established a dynamic population-based outcome study of patients (over 2000) ever-treated with MS disease modifying therapy in Southern Alberta. Utilization, cost and both clinical and patient-based outcome data are being collected.
I have established a population-based cohort of over 4000 people with MSthat includes people on MS therapy (above) but also people never treated.
I have been studying ways to improve how we use corticosteroids to treat MS.
With Dr. SB Patten, I have contributed to our understanding of depressive disorders in people with MS, including their association with MS disease modifying therapy and their impact on discontinuation of these therapies. I have also improved care options for people with MS and mood disorders.