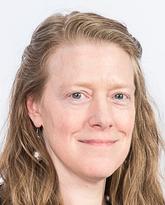 Kristin von Ranson
Professor
Psychology
Full Member
Hotchkiss Brain Institute
Ph.D., Clinical Psychology/Clinical Science
University of Minnesota
A.B. (Hons), Psychology
Bryn Mawr College
Research and teaching
Research areas
The Mathison Centre for Mental Health Research & Education
Biography
Kristin von Ranson, Ph.D., R.Psych., is a professor of psychology and registered clinical psychologist with expertise in eating disorders and body image. A recipient of specialized training in eating disorders at the University of Minnesota (PhD), Western Psychiatric Institute & Clinic, University of Pittsburgh Medical Center (predoctoral clinical internship), and Cincinnati Children's Hospital Medical Center (postdoctoral fellowship), her program of research focuses on reducing the burden of eating disorders and related problems across the lifespan.
Her research addresses the research-practice gap in psychotherapy provision, risk and maintenance factors for eating pathology, links between eating disorders and addictions, and impacts of weight bias. In addition to research collaborations with her student supervisees, Dr. von Ranson maintains collaborations with colleagues at the University of Calgary and at other universities in Canada, the United States, and Germany.
She has published more than 70 peer-reviewed journal articles and book chapters. Her research funding sources have included the Canadian Institutes for Health Research, PolicyWise for Children & Families, and the National Eating Disorders Association. A recipient of local and national mentorship awards (Canadian Psychological Association's Feminist Mentorship Award; University of Calgary Faculty of Graduate Studies' GREAT Supervisor Award), Dr. von Ranson has supervised more than 20 clinical psychology MSc and PhD theses, 15 undergraduate psychology honours students, and two interdisciplinary postdoctoral fellows.
Reflecting her reputation in the field of eating disorders, Dr. von Ranson's current service roles and affiliations include Fellow and Director for Research-Practice Integration, the Academy for Eating Disorders; elected member, the Eating Disorders Research Society; editorial board member, the International Journal on Eating Disorders; editorial board member, Behavior Therapy; and Associate Editor of Frontiers in Psychology's section on Eating Behavior.
Awards
My SupervisorSkills, GREAT Supervisor Award, University of Calgary Faculty of Graduate Studies;
Feminist Mentoring Award, Section of Women and Psychology, Canadian Psychological Association;
Fellow, Academy for Eating Disorders;
Eating Disorders Research Society Young Investigator Award