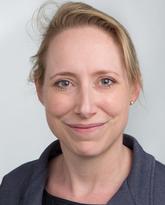 Julia Jacobs-LeVan
Director, Pediatric Epilepsy Program
Alberta Children's Hospital
Associate Professor
Departments of Pediatrics and Clinical Neurosciences
Adjunct Professor
University of Freiburg Medical Center
Full Member
Hotchkiss Brain Institute
M.D. (Doctor of Medicine)
M.Sc. (Master of Science)
Research and teaching
Research areas
Pediatric epilepsy
epileptic sleep and cognition
refractory epilepsy
pediatric hypothalamic Hamartomas
Epilepsy
Research activities
Dr. Jacobs is the director of the pediatric epilepsy program at the Alberta Children's Hospital. Her research aims to improve the diagnostic tools and outcome prediction in children with rare and difficult to treat epilepsy.
Dr. Jacobs's research interests include:
- The analysis of High Frequency Oscillations (HFOs) as EEG biomarkers using intracranial as well as scalp EEG.
- Identifying epileptic networks involved in the generation of inter-ictal epileptic spikes using methods such as simultaneous EEG and functional MRI (fMRI).
- Understanding the interactions between epileptic EEG activity, sleep and cognition in early epileptic encephalopathies.
- Finding EEG predictors in children with early brain injury to assess their risk of developing epilepsy.
- Identification of outcome predictors for children undergoing epilepsy surgery.
- Improving outcome and understanding co-morbidities in children with Hypothalamic Hamartomas
Awards
ECE Young Investigator Award - 2016
Prize of the Hodeige-Foundation "Fast fMRI provides high statistical power in the analysis of epileptic networks" - 2014
Friedrich-Linneweh-Prize, German Society of Pediatrics "High Frequency Oscillations as new markers of epileptogenic tissue in children with refractory epilepsy" - 2011
W.A. Cobb Young Investigator Award, International Federation of Clinical Neurophysiology for the manuscript "High frequency changes during inter-ictal spikes detected by time-frequency analysis" - 2010