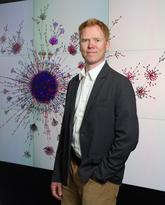 Joern Davidsen
Professor
Department of Physics and Astronomy
Full Member
Hotchkiss Brain Institute
Dr. rer. nat.
M.Sc. (Master of Science)
Research and teaching
Research areas
Complexity science and neuroscience
Physics of complex systems
Mental Health
Neurodevelopment
Research activities
Physical, geophysical, chemical, living and man-made systems often show behaviors that cannot be understood by studying their building blocks or constituents to ever finer detail but that are emergent. The concept of emergence can be summarized by the statement that there exists an entity (e.g. an organism) which is more than the sum of its parts. This is often used as the defining property of a complex system. Prominent examples of such complex systems include the brain, the heart as well as the climate system, space weather and seismicity. Understanding emergent properties, their stability and the self-organization processes leading to them in non-equilibrium systems is one of the central quests of modern physics and beyond. My research aims to tackle this challenge by bridging the gap between complexity science and neuroscience.
Awards
Humboldt Research Fellow - 2014
Alberta Ingenuity New Faculty Award - 2010