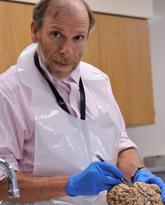 Jeffrey T Joseph
Professor
Pathology & Laboratory Medicine
Full Member
Hotchkiss Brain Institute
M.D. (Doctor of Medicine)
Research and teaching
Research areas
Dementia & Cognitive Disorders
Movement Disorders
Research activities
In my graduate student research, I discovered and characterized the mitochondrial genome from the malaria parasite. My remaining research has been in clinical neuropathology. I have worked on brain tumours, progressive multifocal leukoencephalopathy (JC virus), select muscle diseases, select areas of forensic neuropathology, several neurodegenerative diseases, developmental diseases (Wolfram syndrome, pontocerebellar hypoplasia), and Creutzfeldt-Jacob disease. I have done some work detailing the mathematical limitations of mitotic counts in grading brain tumours. I am currently working with Peter Stys on characterizing amyloid and tau deposition in Alzheimer disease using small beta-sheet-specific dyes.
I have taught medical students neuroanatomy, both at Harvard Medical School (head of laboratory sessions) and the University of Calgary. I recently organized and taught neuroanatomy to graduate students in Medical Science at the university of Calgary (MDSC 751.42). I also teach neuropathology extensively to residents in neuropathology, neurology, neurosurgery, and paediatric neurology.
My professional interests are in all aspects of neuropathology as well as running and maintaining a progressive neuropathology clinical service. I have also been banking autopsy brain tissue for specific researchers.