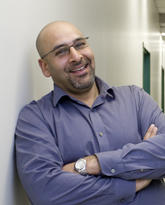 Jaideep Bains
Professor
Physiology & Pharmacology
Full Member
Hotchkiss Brain Institute
Ph.D. (Doctor of Philosophy)
Research and teaching
Research activities
The focus of our lab is to bring together two large and important areas of neuroscience: the study of stress and the study of synapses.
Our goal is to think about stress from a synaptic perspective first. Using this approach, we hope to provide new information that will do three things:
Build an evolving set of rules about the synapses that comprise neural stress circuitry that are derived from rigorous experimentation.
Use these rules to better understand how these synapses and circuits adapt to acute and chronic stress challenges.
Lay the foundation for tackling larger questions that link stress to diseases such as depression and anxiety.
Using techniques that allow us to probe brain function from single synapses to awake, behaving animals, our goal is to understand how physiological and psychological challenges lead to long-term changes in the brain. We focus on neurons in the hypothalamus that coordinate the mammalian response to stress, with a particular interest in how the molecules, or neuromodulators released at the onset of a stress leave a lasting imprint to alter subsequent stress responses.