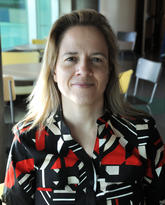 Gina Dimitropoulos
Assistant Professor
Faculty of Social Work
Full Member
Hotchkiss Brain Institute
Ph.D. (Doctor of Philosophy)
Registered Social Worker (RSW)
Research and teaching
Research activities
I have three areas of research that are closely aligned with the University of Calgary's Brain and Mental Research Strategy.
First, I have a longstanding research interest in eating disorders, and currently am a PI on an open trial evaluating a family based treatment for youth with atypical anorexia nervosa, and a co-PI on a multi-site feasibility study investigating a novel treatment designed for children with Avoidant Restrictive Food Disorder. The above research initiatives have received peer reviewed funding from the Alberta Children's Foundation for 2 years. I am also working with Drs. Arnold, Borgland and MacMaster to investigate the biological underpinnings of compulsive behaviours in anorexia nervosa and we are pursuing funding to undertake this research including both neuroimaging and animal models.
Second, I am co-PI on a longitudinal study of the biological and psychosocial predictors of mental health outcomes of child maltreatment in partnership with the Sheldon Kennedy Child Advocacy Centre (SKCAC) and the Mathison Centre. My role is assessment and analysis of clinical and familial predictors of outcome. I am PI on a related study study (funded by Policy Wise) to investigate the knowledge, capacity and competencies of front line workers (child welfare workers, law enforcement, child and mental health workers) to assess and respond to youth affected by child sexual abuse images.
Third, I am leading or co-leading projects on adolescent mental health with two themes: 1) school mental health; and, 2) transition age youth (TAY) with health and mental health conditions. I am Co-PI on a study with other members of the UofC Mental Health Neuroteam examining the relationship between academic achievement, mental health and stigma over time in high school students (funded by the Brain and Mental Health Strategic Research Fund). I am also Co-PI on a CIHR grant focused on a clinical trial for adolescents and TAY with complex health and mental health issues (funded by the ACHRI BMO Research Fund).