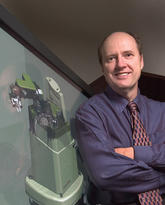 Garnette Sutherland
Professor
Clinical Neurosciences
Full Member
Hotchkiss Brain Institute
M.D. (Doctor of Medicine)
FRCSC
Research and teaching
Research activities
Our research has resulted in the development of an intraoperative MRI system based on a movable magnet. Here in Calgary, the initial prototype 1.5T system was used to evaluate neurosurgery in over 950 patients. Based on this success, the system was upgraded to 3.0T. Over 100 patients have been studied using this novel technology. The technology formed the foundation of a spin off company, IMRIS Inc (http://www.imris.com/). The company now has over 30 sites, including Boston Mass General, Brigham and Women's Hospital, Yale University, Johns Hopkins University and the main military hospital in Beijing, China. Through these installations, the research program has become internationally based and used in over 3000 cases worldwide.

Related to the intraoperative imaging program, the research group went on to design, manufacture and integrate an image-guided MR-compatible robotic system called neuroArm. (http://www.neuroarm.org/). The technology is currently being evaluated in the iMRI operating theatre. The robotics research program includes an Advanced Engineering and Prototyping Laboratory, Surgical Performance-Haptics Laboratory, a Telementoring and Debriefing Room, and an Experimental OR for the development of neuroArm II. In collaboration with NRC Institute for Biodiagnostics, the research group has been developing multi-channel RF coils for 3T integration.

Over the past five years, the research group have collaborated on a CIHR Team Grant that has resulted in the development of bi-modal cell-specific nanoparticles. The particles will be used to enhance various imaging aspects of the iMRI and robotics programs. Based on observations that ceramics, in particular zirconia, do not result in MRI susceptibility artifact, ceramic aneurysm clips have been developed. This research required collaboration with industrial partners located in British Columbia.