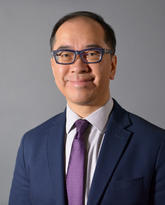 Chester Ho
Associate Professor and Division Head
Clinical Neurosciences
Associate Member
Hotchkiss Brain Institute
Research and teaching
Research areas
Movement Disorders
Spinal Cord / Nerve Injury & Pain
Research activities
Dr. Chester Ho is Associate Professor and Head of the Division of Physical Medicine & Rehabilitation (PM&R) in the Department of Clinical Neurosciences at the University of Calgary, Canada. He completed his PM&R residency training at the Harvard Medical School/Spaulding Rehabilitation Hospital in Boston, MA, and fellowship training in Spinal Cord Injury (SCI) Medicine at the University of Medicine & Dentistry of New Jersey/Kessler Institute of Rehabilitation. He was Chief of SCI at the Cleveland VA Medical Center between 2006 and 2011.

Dr. Ho has a special clinical and research interest in pressure ulcers (PU), a prevalent, complicated, expensive and potentially fatal complication following SCI. His long-term collaboration with Dr. Kath Bogie at the Cleveland FES Center includes the study of the use of various modalities, including functional electrical stimulation, for the prevention and treatment of PU. Their work has been funded by national agencies such as the VA Rehabilitation Research & Development Service. This has led to 12 peer-reviewed publications on PU since 2007, as well as 5 book chapters in PU in most of the major PM&R textbooks since 2008. He has spoken internationally on PU and has won numerous awards for his work.

Since joining the University of Calgary in 2011, Dr. Ho has become a member of the Alberta Innovates Health Solutions Interdisciplinary Team for Smart Neural Prostheses, a collaborative team grant between the University of Alberta and the University of Calgary, with a specific focus on the PU program. The team has already been successful with the technical design and feasibility testing of the "Smart-e-Pants", an undergarment that uses surface electrical stimulation for the prevention of PU. The future plan is to take this to clinical trial and if successful, to implement this device for clinical practice.