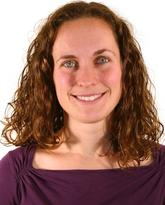 Catherine Lebel
Associate Professor
Radiology
Adjunct Professor
Werklund School of Education
Full Member
Hotchkiss Brain Institute
B.Sc. (Bachelor of Science)
Ph.D. (Doctor of Philosophy)
Research and teaching
Research areas
Brain and behaviour
traumatic brain injury
Neurodevelopment
reading
fetal alcohol spectrum disorder
prenatal environment
Research activities
My research uses structural and functional magnetic resonance imaging (MRI) to investigate brain structure and function in children. Broadly, my work is focused on understanding brain-behaviour relationships in both typical and atypical brain development. Specifically, I study relationships between brain maturation and factors including prenatal environment, cognitive abilities, behaviour, and mental health in typically-developing children and children with developmental disorders.
I currently have a large CIHR-funded study examining brain development in young children aged 2-6 years. We are characterizing healthy brain development across this age range, and looking at how brain developmental trajectories are associated with children's academic skills (specifically reading) when they enter school. We are also examining the effects of prenatal environment (including maternal mental health, and exposure to neurotoxicants like bisphenol-A) on children's brain structure and function.
I have an NSERC-funded project using advanced MRI techniques to understand healthy white matter development in older children (7-15 years). We are using several techniques more specific to myelin than common MRI methods, and trying to understand the specific processes that underlie white matter development during this age range, as well as relationships between this white matter maturation and children's cognitive skills and behaviour.
Finally, I have projects funded by Kids' Brain Health Network and the Addictions & Mental Health Strategic Clinical Network examining brain alterations related to prenatal alcohol exposure. We are studying children across a wide age range (2-18 years), and working to understand how brain abnormalities are related to a child's specific diagnosis, his/her facial dysmorphology, their mental health symptoms, and other exposures that the children may have (e.g., postnatal abuse/neglect).
I also collaborate on projects studying brain injury (traumatic brain injury (TBI) and perinatal stroke) and disease (cancer and psychiatric illnesses), both in pediatric and adult populations.
Awards
ISMRM Outstanding Teacher Award - 2017
Avenue Magazine Calgary Top 40 Under 40 - 2016
CIHR New Investigator Award, 2015 - 2020
Banting Postdoctoral Fellowship, 2011 - 2013