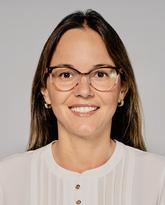 Camila Aquino
Assistant Professor
Clinical Neurosciences
Full Member
Hotchkiss Brain Institute
MD (Doctor of Medicine)
MSc (Master of Science)
PhD (Doctor of Philosophy)
Preferred method of communication
Administrative Assistant:
Heidi Rubba
E: rubbah@ucalgary.ca
P: 403.210.9543
Research and teaching
Research activities
My research interest focuses on addressing the unmet needs of people living with movement disorders.
With a Health Research Methodology background, I aim to develop symptomatic and neuroprotective clinical trials for Parkinson's Disease using innovative designs, including precision-medicine approaches for selection of study population, intervention at early stages, and optimization of outcome assessments.
I am also interested in the evaluation of outcomes and expansion of indications for neuromodulation therapies, such a Deep Brain Stimulation, Spinal Cord Stimulation, and MRgFUS.
I am a member of the Parkinson Study Group, a group dedicated to the design and implementation of clinical trials in Parkinson's Disease, and a member of the Evidence-Based Medicine Committee of the International Parkinson and Movement Disorder Society.
Awards
Clinical Fellowship Grant, Parkinson Society Canada;
Mohammad Al Zaibak Foundation Fellowship in Parkinson's Disease;
CAPES Foundation Doctorate Scholarship.