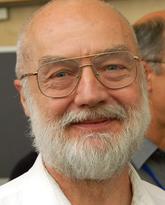 Bill Stell
Professor
Cell Biology and Anatomy
Full Member
Hotchkiss Brain Institute
M.D. (Doctor of Medicine)
Ph.D. (Doctor of Philosophy)
Research and teaching
Research activities
1) Retinal circuitry in relation to visual function. I use Golgi impregnation, immunohistochemistry, and electron microscopy to identify specific retinal neurons and trace their synaptic connections. This information provides the basis for the following three streams of focussed neuroscience research.

2) Vision testing in animal. We employ a computer-based virtual optomotor system (OptoMotry) to test visual function rapidly, repeatedly and non-invasively by measuring the reflexive optokinetic response (OKR) in small laboratory animals - mice, young chicks and pigeons, juvenile rabbits. This provided the platform for thesis research.

3) Myopia development. We study myopia (near-sightedness) experimentally in chicks, monkeys and (hopefully) mice. The main ojective is to identify retinal circuitry and visual image-processing mechanisms that either promote or prevent the development of myopia, which is influenced far more by the visual environment than by heredity. The main current topics are the role of nitric oxide as a myopia-inhibiting ocular messenger in chicks, the role of high intensity (outdoor) lighting in preventing myopia in primates, and the roles of ocular-tissue receptors for dopamine and acetylcholine in myopia causation an prevention (using DA- and muscarinic-receptor knockout mice).

4) Vision Loss in genetic disorders affecting the retina. With Torben Bech-Hansen, I am working out how retinal circuitry is altered by mutations in the Cacna1f gene, which encodes the L-type Ca-channel responsible for release of synaptic transmitter, Glu, from rods and cones. This ongoing work uses immunolabelling and OKR testing and has resulted in two high-profile papers.