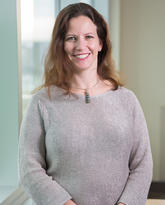 Ashley Harris
Assistant Professor
Department of Radiology
Full Member
Hotchkiss Brain Institute
Ph.D. (Doctor of Philosophy)
Research and teaching
Research areas
Spinal Cord / Nerve Injury & Pain
Traumatic Brain Injury
Magnetic Resonance Imaging
MRI
Chronic Pain
Stroke
Research activities
My PhD is in Biomedical Engineering from the University of Calgary and I examined acute stroke using magnetic resonance (MR) imaging.
Since receiving my PhD, I have been a post-doctoral fellow at Cardiff University and The Johns Hopkins University prior to becoming a faculty member at Johns Hopkins. Through out my research career, I have focused on the brain, using MR to understand both clinical and healthy conditions. Most recently I have been working on methods development of MR spectroscopy to meaure brain metabolites, specifically GABA. My most recent publications have examined metabolite levels in developmental disorders – Complex Motor Stereotypies and Tourette's Syndrome.
In parallel, I have also been working on methods development for quantifying GABA. With my return to Calgary, I plan to use spectroscopy in combination with other MR modalities to understand clinical conditions such as brain injury and chronic pain as well as understanding the healthy brain throughout development and the lifetime. In particular, I am interested in studying the balance between glutamatergic excitation and GABAergic inhibition, how this influences brain function and structure and consequently behaviour and health. This work is translational and collaborative in nature.
Biography
Affiliations:
ACHRI
Awards
Canada Research Chair in Magnetic Resonance Spectroscopy in Brain Injury