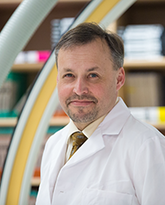 Andrew Demchuk
Associate Professor
Clinical Neurosciences
Radiology
Director of the Calgary Stroke Program
Alberta Health Services
Full Member
Hotchkiss Brain Institute
M.D. (Doctor of Medicine)
FRCPC
Research and teaching
Research areas
vascular imaging
ischemic stroke
Stroke
Research activities
Dr. Demchuk's primary research interests focus on vascular imaging, where he is trying to establish target populations for new stroke treatments by selecting patients based on imaging tests performed in the emergency setting.

In addition to his research and clinical activities, Dr. Demchuk is a member on a number of local, national, and international committees. He is the past board chair for the Heart and Stroke Foundation of Alberta, NWT, and Nunavut and member of the Board of Directors of the Canadian Stroke Consortium. He is currently a member of the Scientific Committee of the European Stroke Conference.

Throughout his career he has received a number of awards, including the Michael S. Pessin Stroke Leadership Prize from the American Academy of Neurology (2003), and the A Keith W Brownell Neurology Teaching Award for resident teaching (2006). He currently holds a scholar award from the Alberta Heritage Foundation for Medical Research (AHFMR).