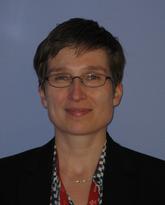 Aleksandra Mineyko
Clinical Assistant Professor
Pediatrics
Associate Member
Hotchkiss Brain Institute
Research and teaching
Research areas
Spinal Cord / Nerve Injury & Pain
Research activities
Rare pediatric neurological diseases are collectively common, often poorly understood, and account for enormous health care costs. They result in significant morbidity and family burden. Defining mechanisms of disease remains the unifying target for both understanding pathophysiology and designing new treatments. Sterile inflammation provides an example of a multi-system mechanism applicable to all pediatric neurology subspecialties. Modern proteomics provide remarkable opportunities to explore such mechanisms. Such analyses can be performed on minute volumes of any body fluid providing great clinical research potential.

Clinical research activity in pediatric arteriopathies is leading in the determination of the cause of childhood stroke and its recurrence. With morbidity spanning a child's life, global impact is large. Inflammatory cerebral vasculitis is suspected as the leading cause for this arteriopathy but no means currently exist to make this diagnosis. This has major implications for the use of anti-inflammatory treatments that might improve outcome. These novel tools now afford the opportunity to both diagnose and understand inflammatory mechanisms in cerebrovascular disease but have never been applied to children with stroke.

Other areas of clinical research activity in pediatric neuro-inflammatory disease includes: perinatal stroke, neonatal hypoxic ischemic encephalopathy, and collaborations in traumatic brain injury. Collaborations continue to grow with researchers in other major centers to determine the role of inflammation in neurological diseases of childhood. Applying this knowledge to trial new treatments in childhood neurological disorders remains the final goal.