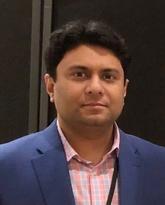 Abdullah Al Maruf
Adjunct Assistant Professor
Psychiatry
Physiology & Pharmacology
Associate Member
Hotchkiss Brain Institute
Ph.D.
University of Toronto
B.Pharm. and M.Pharm.
University of Dhaka
Research and teaching
Research areas
The Mathison Centre for Mental Health Research & Education
Psychiatric Pharmacogenomics
Precision Pharmacotherapy
Adverse Drug Reactions
Research activities
My current research focuses on the roles of genes and the environment and their interactions in mental health disorders and psychiatric drug response in children and youth. My overarching research goal is to develop a Knowledge [Discovery] to Action [Implementation] (K2A) Research Program to facilitate the clinical implementation of pharmacogenomics (PGx) to guide safe, effective, and cost-effective pharmacotherapy.
Awards
Connaught Fellow - University of Toronto
Dean's Merit List - University of Dhaka