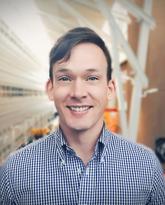 Aaron Phillips
Assistant Professor
Physiology & Pharmacology
Cardiac Sciences and Clinical Neurosciences
Full Member
Hotchkiss Brain Institute
Ph.D. (Doctor of Philosophy)
M.H.Sc. (Master of Health Science)
Research and teaching
Research areas
Spinal Cord / Nerve Injury & Pain
Developing novel solutions for cardiovascular dysfunction patients with neurological conditions.
Research activities
My research combines integrated physiology and neuroscience in order to understand cardiovascular function. Currently, the laboratory has two primary foci: the first is to understand the mechanisms underlying neurovascular regulation in the human brain; the second is to develop a neurostimulation therapy for restoring cardiovascular health in those with autonomic dysfunction.
I am currently collaborating with labs in Switzerland and Croatia as well as with clinicians in Minnesota to deeply understand the capacity of electrical stimulation of the spinal cord to control autonomic function. These studies are using murine models, as well as non-human primates and humans.
Clinical tools used in the lab include vascular and cardiac ultrasound, beat-by-beat blood pressure, MRI, orthostatic stress testing, arterial blood gas reactivity testing, both surgically implanted and non-invasive neurostimulation modalities, etc. Preclinical tools include CLARITY (tissue clearing method), arterial cannulation, spinal cord transection/contusion, and a variety of genetic strains for optogenetic manipulation (e.g., Th-Cre, PV-Cre). The lab is also employing a novel computational pipeline for managing large data-sets of physiological metrics.
Trainees
Trainees at all stages will have the opportunity to be a primary author on published peer reviewed manuscripts, participate in national and international field-work, and gain experience in translational integrated physiology and neuroscience. Trainees at the postdoctoral, graduate or undergraduate level interested in these areas of research are encouraged to send their CV and a letter of interest to Lisa Mesluk: lmesluk@ucalgary.ca
Biography
Aaron Phillips was trained in Experimental Medicine, Biosciences and Mathematics. His appreciation of the elegant interactions between the nervous and cardiovascular systems, and understanding how these systems are disrupted in the presence clinical conditions, has driven his research into the development of novel therapies for people with neurological health issues. After obtaining the Banting, CIHR, NSERC, Heart & Stroke Foundation, and Craig Neilsen Fellowships as well as the Killam Research Award during his post-doc at the University of British Columba (UBC), he established his laboratory at the University of Calgary in 2017. He is now a Professor of Physiology and Pharmacology, Clinical Neurosciences, and Cardiac Sciences. Within the Foothills Medical Centre, he is Director of RESTORE.net, which is a platform dedicated to developing translational technology for neurological injury. He has received the Brain Canada Future Leader Award, The Arthur Guyton Award in Excellence in Physiology from the American Physiological Society, and the Top 40 Under 40 from Avenue Magazine. He has funding from several organizations including CIHR, NSERC, PRAXIS, Wings for Life, and the US Military through DARPA. He also publishes in top journals including Nature, Neurology, and Nature Biotechnology.
Affiliations:
Libin Cardiovascular Institute of Alberta
Department of Cardiac Sciences
Awards
Banting Postdoctoral Fellowship (declined) - 2017
American Physiological Society Int'l. Early Career Physiologist Travel Award - 2017
Killam Postdoctoral Research Prize - 2016
Clinical Science Young Investigator Award - 2017