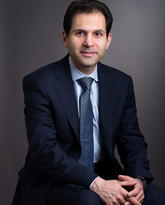 Payman Hajiazim
Clinical Assistant Professor
Psychiatry
Associate Member
Hotchkiss Brain Institute
M.D. (Doctor of Medicine)
ESRS (European Sleep Research Society), Expert in Sleep Disorders Medicine
FRCPC (Fellow of the Royal College of Physicians of Canada)
Preferred method of communication
Administrative Assistant:
Psychiatry - Amanda Hanner
Phone: 403.955.6566

Sleep Disorders - Eric Bloom
Phone: 403.455.3747

Biography
Dr. Hajiazim is an Assistant Professor at the University of Calgary and Attending Psychiatrist and Sleep Specialist at Sheldon Chumir Central Clinic, Rocky View Hospital, and Sleep and Fatigue Institute.
His research focuses on the novel treatments, such as Orexin receptors inhibitors, aiming at treating Insomnia and also Narcolepsy.
After completing the medical school training at The Tehran University of Medical Sciences and the residency in psychiatry at The Shahid Beheshti University in Tehran, Dr. Hajiazim completed additional training in psycho-dynamic psychotherapy and then in sleep medicine at The University of Toronto.
Dr. Hajiazim's research also covers the possible causes of fatigue and the interplay between the sleep disorders and mental/physical fatigue in adults and sleep aspects of attention deficit hyperactivity disorder (ADHD) and depression. His particular clinical interest is also on the management of the circular interplay between sleep disorders and the neuropsychiatric conditions such as head traumas/concussions and cognitive impairments MCI/dementia.